Learn - Articles about leading worship

CCLI Numbers For Songs
By John Green, ShapingWorship.com Artist

If your songs are being regularly used in multiple churches, then CCLI might be of benefit to you. They won't allow you to sign up (and there wouldn't be any benefit to you) if your songs aren't being used in multiple churches.
If you sign up, it's a $50 registration fee, then you get CCLI ID numbers for the songs you register with them. American churches with the CCLI license get surveyed every 18 months (I think) and they report what songs they used during a 6 month period. If your songs show up on those surveys, then you get a payout (minus a 25% administrative fee). You also get a report of which songs of yours showed up on the survey. For us little guys, it's a small chance that our songs will show up on their "radar," but if they do, you get a modest royalty payout. If a song takes off and is used by churches all over, you would get a much bigger payout.
At the point that you have determined that there is enough use of your songs to make signing up worthwhile, here are CCLI's instructions on how to contact them:
Q: How can I join CCLI as a song owner or administrator of copyrights?
A: Are your songs currently being used for congregational worship in multiple churches? If not, there would be no benefit to yourself or the Church Copyright License for you to join at this time. If your answer is yes that your songs are currently being used in multiple churches, please email copyright@ccli.com with the following information: 1. Email subject line must read: WEB ROA 2. Name (first and last name and/or dba, company name) 3. Mailing address 4. Phone & fax numbers 5. Email address
[ Next Tip ] [ More tips ] [ Community Comments ] [ Add Your Comment ]
---

Community Comments...
On 08-28-2009, Steve Baney said:
Does the $50 fee change with a different number of songs, or is that a registration for the artist? I'm wondering if it costs more if you have more songs.
Please login to add your comment.
---

More Tips...

































































---
[ More tips ] [ Community Comments ] [ Add Your Comment ]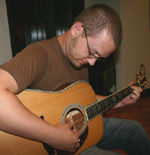 Steve Baney is the founder of ShapingWorship.com, where you can share your original worship music with others and find the perfect song to match your set list, theme, Scripture, or topic. Steve has been a pastor of worship for 12 years, and is author of over 30 worship songs. Read more about the shape of worship and hear new worship music free at ShapingWorship.com.