Learn - Articles about leading worship

Listening To ShapingWorship.com Music When You Aren't Online

A new member recently wrote to me and asked how she could enjoy ShapingWorship.com music when she is away from her internet access. Particularly, she wanted to share a song with her small group.
Since the artists have shared their music on the website, visitors can listen to the music while they are online. In order to hear the song when you're away from the computer, you'll need an account. Login, then find the song you want (on the New Music page, or the All Music page, etc). When you're logged in, you can click the mp3 link to download a copy of the song and save to your computer. From there, you can burn the song onto a CD.
If you plan to do this, I encourage you strongly to let the artist know. They have graciously shared their music with you for free. It will encourage them greatly to know that you enjoy their music and plan to share it with others.
[ Next Tip ] [ More tips ] [ Community Comments ] [ Add Your Comment ]
---

Community Comments...
Please login to add your comment.
---

More Tips...

































































---
[ More tips ] [ Community Comments ] [ Add Your Comment ]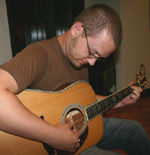 Steve Baney is the founder of ShapingWorship.com, where you can share your original worship music with others and find the perfect song to match your set list, theme, Scripture, or topic. Steve has been a pastor of worship for 12 years, and is author of over 30 worship songs. Read more about the shape of worship and hear new worship music free at ShapingWorship.com.