Learn - Articles about leading worship

Are Worship Leaders Becoming Worship Idols?

If you haven't already read it, I encourage you to take 10+ minutes to chew on an excellent article by Ruth Dickinson (deputy editor of Christianty Magazine, UK). In it, she discusses the danger of worship as performance, drawing parallels between church trends and the popular Idol music TV shows. The article calls us to define excellence in leading worship as measured by the quality of the participation more than the quality of the performance.
Read the whole article, then share your thoughts below.
[ Next Tip ] [ More tips ] [ Community Comments ] [ Add Your Comment ]
---

Community Comments...
On 10-23-2009, bob gritt said:
Are Worship Leaders Becoming Worship Idols? I guess that would depend in at least two factors. Firstly whether the worship leader sees him/herself as 'God's gift to mankind' and secondly whether those around him/her would agree. My guess is that as Christians, no matter what our ministry might be, we should always be humble. Once we throw humility out of the window then pride wiil set in; and this is not the Christian way. However, I do agree a lot with Matthew Macauley. We can't just hide our musicians simply because their performance could be idlolised. In my opinion, as long as we clothe oursleves with the humility that our Lord exhibited to those around him, then there shouldn't be too much of a problem. Just my 2 pennies worth. :) God bless!
On 10-23-2009, Steve Baney said:
Thanks for your comment, Bob.

There is a tension between doing one's best to be excellent in ministry versus performing. Some people find it difficult to tell the difference (because the motives of the heart can be hard to read).
Please login to add your comment.
---

More Tips...

































































---
[ More tips ] [ Community Comments ] [ Add Your Comment ]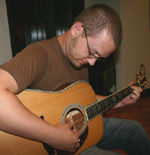 Steve Baney is the founder of ShapingWorship.com, where you can share your original worship music with others and find the perfect song to match your set list, theme, Scripture, or topic. Steve has been a pastor of worship for 12 years, and is author of over 30 worship songs. Read more about the shape of worship and hear new worship music free at ShapingWorship.com.