Learn - Articles about leading worship

Home Recording with a DAW

DAW (Digital Audio Workstation) software is great for recording music onto a computer. You'll need a microphone. And you can consider one of the following free DAW programs. Use them to record multiple tracks over top of each other (recording one at a time, but with an end result of a full-band sound).
Music Studio Producer
http://www.hitsquad.com/smm/programs/MusicStuProd/
(A similar software called Independence costs $39.) MSP gets mixed reviews, and will take some time to learn how to run the software. But you can't beat the price!
Audacity
http://audacity.sourceforge.net/
This award-winning software is open source, so many skilled mindshave contributed to it. Currently, version 1.2.6 is available with full documantation. It allows speed and pitch changes (helpful for those Oops moments).
Do you use a different DAW that is free? Tell us about it below.
[ Next Tip ] [ More tips ] [ Community Comments ] [ Add Your Comment ]
---

Community Comments...
Please login to add your comment.
---

More Tips...

































































---
[ More tips ] [ Community Comments ] [ Add Your Comment ]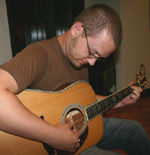 Steve Baney is the founder of ShapingWorship.com, where you can share your original worship music with others and find the perfect song to match your set list, theme, Scripture, or topic. Steve has been a pastor of worship for 12 years, and is author of over 30 worship songs. Read more about the shape of worship and hear new worship music free at ShapingWorship.com.