Learn - Articles about leading worship

Worship Questions - How Mission, Audience, and Language Influence Worship

How do you choose music for your worship ministry? What instruments do you include? How many singers / vocalists sing at the same time? The answers to these questions will vary greatly based upon your context. What works well in one church might totally flop in another. So blindly copying another church's pattern can lead to all kinds of trouble.
Like many other areas of life, in the church people have strong opinions about everything. And when it comes to music, these opinions become even more pronounced. The worship leader needs to be sensitive to the musical preferences of the congregation (for example, not singing primarily rap songs in a country-western congregation, etc.). But at the same time, the worship leader cannot (and must not) let those music preferences dictate the direction of the worship ministry. They will influence it, not dictate it. No leader can please everyone all the time.
The style of music greatly influences the number of simultaneous singers in the band. Gospel music and choir music requires 4 (or more) singers so that each vocal part can be heard. Pop and rock music can be led by one or two singers (melody, harmony). R&B requires three or four singers who can do tight harmony. Once you've identified the style of music you'll be using, it will influence the type of musicians and number of vocalists in the band. [1]
What happens when you have too many voices singing at the same time? (1) The congregation gets a sense that there isn't a leader because they don't know who to follow. (2) Diction is lost, so lyrics become difficulty or impossible to understand. (3) Vocalists with a strong desire to be heard by the congregation (an unhealthy attitude) are even more frustrated because they are now being asked to blend (or in their minds, compete) with a group of other voices.
What should dictate the direction of the worship ministry? Primarily the mission of the church... ask yourself who is the target audience of your church's ministry. Ya ya, I know God is the audience of our worship. That's not what I'm talking about. What kind of people does your church minister to best? If the target audience (those who you focus the most time, energy, and resources into serving) is people age 65 and over, then it's logical to select music that suits their age bracket, likely traditional hymns. If however, your target is youth, choosing contemporary rock songs would be better. You may find yourself somewhere in between.
Don't get me wrong - traditional hymns have great value in the church. And I believe youth can and should learn from them. But today's youth culture is more likely to be drawn into a powerful experience of God through worship that is contemporary (a rock band) than music that is traditional (an organ).
Music is much like a language (English, French, Spanish). There are many worship languages (traditional, modern, choir, band, special solo, etc.). Just as one spoken language is not better than another (Enlish is no better than German), in the same way, no style of music is better than another. Some styles are more enjoyable because they are like a native language to those who already know how to speak them. Remember, it takes time to learn a new language, much time and practice. Similarly, people can learn a new worship language. But if your worship ministry is speaking a different language than the congregation, much is lost in the translation. Understanding the language of your target audience will improve the effectiveness of your worship ministry.
The mission of our church is to spread the gospel to unchurched families with school-aged children. (We also minister to people who don't fall into this category. But they are our primary focus.) For this reason, our worship band often incorporates classic rock songs that would be recognized by the target audience from secular radio. Your church's mission may identify a different target, and thereby lead you to choose a different style of music.
Any way you look at it, your context should be a huge influence on your worship ministry. Take some time to reflect on your church's mission, the primary target audience, and the worship language of your congregation. What changes might be made in your worship ministry to better respond to these factors?

Footnote [1]: See the Christianity Today article (on music style and the number of singers) entitled, "Create the Ultimate Praise Band" by Eric Likkel: http://www.christianitytoday.com/yc/1998/janfeb/8y1020.html
[ Next Tip ] [ More tips ] [ Community Comments ] [ Add Your Comment ]
---

Community Comments...
Please login to add your comment.
---

More Tips...

































































---
[ More tips ] [ Community Comments ] [ Add Your Comment ]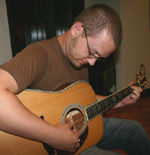 Steve Baney is the founder of ShapingWorship.com, where you can share your original worship music with others and find the perfect song to match your set list, theme, Scripture, or topic. Steve has been a pastor of worship for 12 years, and is author of over 30 worship songs. Read more about the shape of worship and hear new worship music free at ShapingWorship.com.