Learn - Articles about leading worship

Basics for Bassists - Learning to play the bass guitar

A friend recently asked me to recommend a book to learn how to play bass guitar. While I don't have a book to recommend, I do suggest watching these videos. It'll get you started with the basics.
George Urbaszek teaches the names of the parts of the bass:
Watch
Dale Titus talks about bass amps
Watch
Positioning your right hand for two-finger strumming basics
Watch
Playing with a pick (flat and scratch), strumming, octaves
Watch
A simple progression with fifths
Watch
Dale Titus teaches the notes on the fret board, sharps and flats
Watch
How to change strings - "I'm gonna change my g-string here." LOL
Watch
How to tune the bass guitar (tuning is very difficult for beginners)
Watch
A simple fretboard exercise from Dale Titus
Watch
Have you seen or created other helpful videos? Recommend them in the comments below.
[ Next Tip ] [ More tips ] [ Community Comments ] [ Add Your Comment ]
---

Community Comments...
Please login to add your comment.
---

More Tips...

































































---
[ More tips ] [ Community Comments ] [ Add Your Comment ]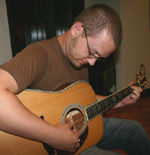 Steve Baney is the founder of ShapingWorship.com, where you can share your original worship music with others and find the perfect song to match your set list, theme, Scripture, or topic. Steve has been a pastor of worship for 12 years, and is author of over 30 worship songs. Read more about the shape of worship and hear new worship music free at ShapingWorship.com.