Learn - Articles about leading worship

ShapingWorship.com Music Contest

How would you like to be able to measure the health of your worship team, implement proven strategies for growth, and take the quality of your worship ministry to the next level? The Worship Leader Assessment is an online tool designed for worship leaders and worship teams to do just these things. And now you have a chance to win a free licence to use the Worship Leader Assessment with your worship team!
The difference between this contest and the contests at other websites is that it doesn't cost you anything to enter. Lately, I've seen some pretty cool contests at other websites. But they always have an entry fee. For cheap-skates like me, this means I don't end up entering their lame contest. But you're in luck! None of the entry requirements (below) for the ShapingWorship.com Music Contest will cost you anything!
How to enter:
There are basically three steps to enter. You'll need to "announce" that you've completed each step by adding a comment (below). It would be easiest to complete all three steps first, then add one comment (instead of adding three comments, etc.)
1) Refer three or more friends to ShapingWorship.com. At least one of them needs to create a new account. You can use the referral email on the Refer-A-Friend page to do this, or just send them an email. Be sure to tell us who you are referring (your friends' names, not their email) in the comments section below.
2) Upload new worship music that is not already on ShapingWorship.com. The music must be new to the site, and it must be yours (following the normal terms and conditions of ShapingWorship.com). Be sure to tell us in your comment below the name of the new song(s) you upload.
3) Write a review for three or more songs by other artists on the New Music page. Your reviews should describe the songs, not the quality of the recording (since we don't all own a professional studio). Then tell us below the names of the three songs for which you wrote reviews.
How winners are selected:
Three winners will be chosen by a panel of the ShapingWorship.com leadership based upon the quality of the song(s) submitted (not the quality of the recording, but the quality of the song itself).
Start and End Dates:
This contest begins Sunday, November 22 and ends Sunday, December 20, 2009. This gives you four weeks.
Contest Prizes:
1st Place: Worship Leader Assessment (WLA) license for your entire worship team ($36 value, unlimited number of licenses for one-time use), and the first prize winner will be selected as the next Featured Artist (interview, bio, picture, and music highlight).
2nd Place: WLA for 5 team members ($20 value)
3rd Place: WLA single license ($12 value)
Names of the three winners will be announced after the contest ends. Don't wait until the last minute to enter! FYI... Term of the contest are subject to change, if necessary for maximum enjoyment. But I don't plan to change them. :)
[ Next Tip ] [ More tips ] [ Community Comments ] [ Add Your Comment ]
---

Community Comments...
On 12-10-2009, Brent Cole said:
Competed uploading new music -- a couple tracks actually. :-) Enjoy!
On 12-11-2009, Steve Baney said:
Great new music Brent! Thanks for sharing! Merry Christmas
Please login to add your comment.
---

More Tips...

































































---
[ More tips ] [ Community Comments ] [ Add Your Comment ]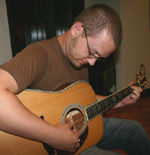 Steve Baney is the founder of ShapingWorship.com, where you can share your original worship music with others and find the perfect song to match your set list, theme, Scripture, or topic. Steve has been a pastor of worship for 12 years, and is author of over 30 worship songs. Read more about the shape of worship and hear new worship music free at ShapingWorship.com.