Learn - Articles about leading worship

Substituting Alternate Chords

When multiple instruments play together in a band, it becomes important to create sonic space for each instrument. Since the bass is a low instrument, it doesn't often share space with other instruments (except the low end of the keys). But what about when you have more than one guitar, for example, an acoustic and an electric, or a rhythm and lead?


In addition to using a capo with transposed chords, you may want to consider substituting several alternative chords. You probably play a G like this...
Did you know you can also play it like this?


By using these different voices for the same chord, both guitars can play at the same time without competing with each other. You'll be surprised at how much you'll be able to distinguish between the two guitars when each plays a substitute chord.
Here are some other chord variations you can try.
Do you use any other substitute chords? Recommend them in your comment below.
[ Next Tip ] [ More tips ] [ Community Comments ] [ Add Your Comment ]
---

Community Comments...
Please login to add your comment.
---

More Tips...

































































---
[ More tips ] [ Community Comments ] [ Add Your Comment ]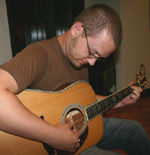 Steve Baney is the founder of ShapingWorship.com, where you can share your original worship music with others and find the perfect song to match your set list, theme, Scripture, or topic. Steve has been a pastor of worship for 12 years, and is author of over 30 worship songs. Read more about the shape of worship and hear new worship music free at ShapingWorship.com.