Learn - Articles about leading worship

Improving Sheet Music: 10 Steps To Make Music Easier To Read

You've seen it: the sheet music from the internet. Courier New font size 10. And it gets even harder to read when you run it through a copy machine a few times. Argh!
Here are a few steps you can use to improve the readability of your sheet music.

1) Use a variable-width san serif font, such as Trebuchet MS. End strokes on characters, called serifs, may look nice in a book, but can actually make sheet music harder to read. San serif fonts other than Trebuchet MS that you might consider also include Franklin Gothic, Helvetica, Tahoma, and Verdana.
2) Increase the font size to at least 16. Yes, this may mean that your music takes up more than one sheet of paper. But trust me, it's worth it. Not being able to see the chord often means (a) not playing anything, or worse, (b) playing the wrong chord. At minimum, I strongly recommend no smaller than size 15.
3) Instead of using the default margins, increase your usable space on the page. I like to use 0.9 inch margins for the top and left and 0.3 inch margins for the right and bottom. I leave a little extra space at the top for notes and on the left for hole punching.
4) Ensure that chords appear directly above the syllable of the word with which they are played. Don't assume that your instrumentalists can figure it out. Do the work for them before you ever hit "Print." This will mean adding spaces between the chords and or words to ensure they line up right.
5) Add dot beats between your chords, especially when chords don't last the same length of time. For example, if you're playing a G C D progression and holding the D, write it like this: G . . C . . D . . . . This gives a simple visual instruction to hold the D twice as long as the G and C. And it allows musicians to count along with the beats.
6) Use indentation for various stanzas of the song. Don't make everything left-aligned. For example, I like to indent the chorus and bridge. This makes them easier to differentiate from the verses.
7) Use bold and italics. In addition to labeling the stanzas, I always embolden the chorus. I want my musicians to be able to quickly find the chorus without any hunting because we'll be playing it multiple times throughout a song. Similarly, I like to italicize the bridge to make it recognizable. I do this because we don't always know in advance exactly when we'll sing the bridge. So when it's time, then we can quickly spot it on the page.
8) Always include instructions for the intro and ending. Don't make your musicians guess how to start or end a song. Tell them how to start and finish. I even include "End on ___" in our sheet music, letting everyone know what chord to land on.
9) If your sheet music isn't supposed to be played in order from top to bottom, include an instruction for where to go when a stanza ends. Something as simple as "To Bridge" can make all the difference between moving on to the next (correct) stanza or a train wreck in front of the congregation.
10) If you have more than one page, let your musicians know! I do this in a couple ways. At the end of the first page, I include an arrow --> at the bottom right. I also hole-punch both sides of the paper. These visual reminders help musicians know in advance to get multiple pages ready (instead of shuffling pages in the middle of a song).

These ten simple steps will not only improve the readability of your band's sheet music, but they'll also improve the sound of your band!
Browse Discount Sheet Music from Amazon
[ Next Tip ] [ More tips ] [ Community Comments ] [ Add Your Comment ]
---

Community Comments...
On 03-05-2010, Steve Baney said:
11) If the guitarist needs a capo, make sure it says so in BIG letters, preferably in the same spot on each piece of music.
Please login to add your comment.
---

More Tips...

































































---
[ More tips ] [ Community Comments ] [ Add Your Comment ]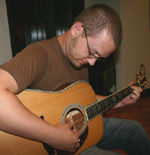 Steve Baney is the founder of ShapingWorship.com, where you can share your original worship music with others and find the perfect song to match your set list, theme, Scripture, or topic. Steve has been a pastor of worship for 12 years, and is author of over 30 worship songs. Read more about the shape of worship and hear new worship music free at ShapingWorship.com.