Learn - Articles about leading worship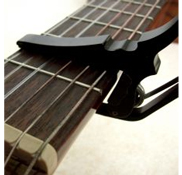 Guitar players: Do you think using a capo is lazy or "cheating" some how?

I think it depends on what kind of guitar you're using... Because they are amplified and processed, electric guitars can produce a full sound with just a few notes, so simple barre chords aren't a problem. But acoustic guitars produce their sound differently and, in my opinion, sound better with more strings. Rather than playing a barred Bb, Eb, and F, the guitarist can capo 3 and play G, C, and D utilizing far more (if not all 6) strings.
In addition to increasing the number of used strings in each chord, the capo creates sonic space as the guitar climbs to a higher register. This means the higher notes produced by the capoed guitar don't compete with other instruments near the same pitch. At the same volume, more instruments can be heard simultaneously.
For some, the issue of the capo is a matter of preference. You could play an A chord open. Or you could capo 2 and play a G. This makes a different voice for the same chord. When you play an A, you are playing (with a muted low E string) the notes (E) A, E, A, C#, E. But if you capo 2 and play a G (all six strings), you are playing the notes relative to the capo G, B, D, G, B or D (depending on how you play your chord), and G. As these notes are raised two half-steps by the capo, they become A, C#, E, A, C# or E, and A. Notice the similarty in the notes being played, but the different order. They produce the same chord, but in unique ways.
Some musicians have concern that using a capo will detune your guitar. This is a very real concern, especially for those who are uncomfortable retuning on the fly. I think a greater concern is for those who become dependent on their capo - and then forget to bring it! We call this a crutch. If you can transpose in your head, it's not much of a problem. But that takes quite a bit of practice. The more you do it, the easier it gets. But on the Sunday when you've forgotten your capo at home and your sheet music depends on it, what will you do?
So what's you're opinion? Is the capo a helpful tool or a hurtful crutch? Share your thoughts below...
[ Next Tip ] [ More tips ] [ Community Comments ] [ Add Your Comment ]
---

Community Comments...
On 04-28-2010, Brandon Green said:
I use a capo with my electric sometimes, when im playing chords. That way I dont play the same thing as the rhythm/acoustic guitar. They are very helpful in that respect. Although I have never liked using them only to change keys, as I would rather work out the chord progression in the new key (Super Transcribing Powers... ACTIVATE!).
Please login to add your comment.
---

More Tips...

































































---
[ More tips ] [ Community Comments ] [ Add Your Comment ]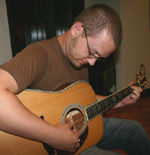 Steve Baney is the founder of ShapingWorship.com, where you can share your original worship music with others and find the perfect song to match your set list, theme, Scripture, or topic. Steve has been a pastor of worship for 12 years, and is author of over 30 worship songs. Read more about the shape of worship and hear new worship music free at ShapingWorship.com.