Learn - Articles about leading worship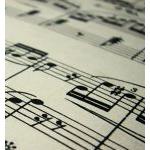 Using Related Keys in Worship

"Ah, she looks just like you!" someone says about my beautiful daughter, not realizing that she is adopted. The fact remains, we often bear a striking resemblance to our relatives.
The same is true in music. Each song has a key. Each key includes certain notes. Sometimes a key will share notes with another key. The more notes that the two keys share, the more closely related they are.
Why bother paying attention to keys?
When you play multiple songs in a row, they will sound better when the keys relate to each other. Think of it like melody and harmony. You could sing a song all by yourself (melody) or add complimentary notes from other singers (harmony). Relative keys between songs do the same thing for us that harmonic notes within a song do.
How to determine the key of a song
If your music is scored (with trebel clef and notes), then you can identify the key of a song by counting the number of sharps or flats in the key signature (the top left). Here's a quick chart for your reference.
| | |
| --- | --- |
| Number of sharps | Key |
| 0 | C or Am |
| 1 | G or Em |
| 2 | D or Bm |
| 3 | A or F#m |
| 4 | E or C#m |
| 5 | B (Cb) or G#m (Abm) |
| Number of flats | Key |
| 0 | C or Am |
| 1 | F or Dm |
| 2 | Bb or Gm |
| 3 | Eb or Cm |
| 4 | Ab or Fm |
| 5 | Db (C#) or Bbm (A#m) |
| 6 | Gb (F#) or Ebm (D#m) |
Sneaky cheat: If you know the notes on the clef but don't have access to the handy chart above, you can still find the key to a song. Start by finding the sharp or flat that is farthest to the right. Go up one half-step. Voila. That's your key. For example, if the last sharp is F-sharp, count up one half-step to identify the key as G. But this only works in major keys (not minor, sorry).
Finding Related Keys
Now that you know the key of your song, let's find some related keys. You've already noticed in the table above that the word OR shows up quite often. This is because some keys are so closely related that their key signature (the sharps and flats in the clef) look identical.
The relative minor of C is Am. The notes in the scales for each of these two keys are identical. Now you can use the chart above to find what we call relative minors. If you're playing a song in G, then it would work well to follow it with a song in the relative minor of G, which is Em. See the right side of the chart above to identify more relative minors.
Other Relatives
In addition to relative minors, keys also have other relatives. They don't match as closely as the relative minors do. But they still share enough notes that they sound nice together. To understand this, you'll need to look at what we call The Circle of Fifths.
Making Your Own Circle of Fifths
Skip this paragraph if you don't care how to make your own Circle of Fifths. If we write out the letters in the alphabet (A to G), then we can count up to five to create this circle. Let's begin counting from C. C=1, D=2, E=3, F=4, G=5. So the fifth of C is G. Now we start counting from G. G=1, A=2, B=3, C=4, D=5. So the fifth of G is D. Notice how the red letters in the circle pictured above follow this pattern of fifths. C is at the top. Then G, D, A, E, and so on, around the cicle.
Using the Circle of Fifths
The most helpful way I've found to use the Circle of Fifths is to identify related keys by moving counter-clockwise around the circle. For example, if I'm in the key of D and want to move to a related key, I move counter-clockwise from D to G. This works the whole way around the circle. You can also move clockwise around the circle; but this tends to feel a bit more awkward.
How Do You Choose Keys?
When you're writing and arranging music for worship, how do you choose which key to use? Do you pay attention to the key at all? How do you think it helps influence worship? Share your comments below.
[ Next Tip ] [ More tips ] [ Community Comments ] [ Add Your Comment ]
---

Community Comments...
Please login to add your comment.
---

More Tips...

































































---
[ More tips ] [ Community Comments ] [ Add Your Comment ]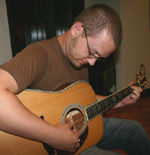 Steve Baney is the founder of ShapingWorship.com, where you can share your original worship music with others and find the perfect song to match your set list, theme, Scripture, or topic. Steve has been a pastor of worship for 12 years, and is author of over 30 worship songs. Read more about the shape of worship and hear new worship music free at ShapingWorship.com.