Learn - Articles about leading worship

7 Reasons Why You Should Sing In Worship
Part 1

We sometimes call musicians "temperamental" because they're half-temper, half-mental.
"From beginning to end, the Bible is full of music and song. The first musician, Jubal, makes his appearance as early as Genesis 4, where we are told that "he was the father of all who play the harp and flute" (v.21). As we turn the pages, we find many who follow in Jubal's musical footsteps. Moses sang a song of praise after the Exodus; Deborah sang after the victory over Sisera."
We know music was used as a part of worship at the Tabernacle, the Temple, and in the Church as well. Many of the Psalms were written by King David and are specifically intended to be sung as music. The annotations found at the beginning of many chapters tell us if they were intended to be sung along with wind instruments,  stringed instruments,  or to be sung to a certain melody.  These aren't just words; these are songs.
We know that Jesus sang with his disciples. As a part of celebrating the Passover, Jesus began the sacrament that we now call Communion or the Lord's Supper. This Passover celebration was traditionally completed by singing the second-half of the Hallel Psalms (115-118). After describing the Last Supper, Matthew 26 says, "When they had sung a hymn, they went out to the Mount of Olives" (v 30). Jesus set the example of singing.
It didn't stop there. The church has been singing ever sense. Paul and Silas sang when they were in jail.  A number of NT letters instruct us to sing "psalms, hymns, and spiritual songs."  And we learn from the book of Revelation that there will be plenty of singing as we join in heavenly choirs to praise God.
Did you know? There was a sad time in church history that people did not sing in worship. Instead, there were so-called "professionals" who were specially trained to sing in another language that many of the people didn't understand. So instead of coming to worship and joining with others in song, you would sit quietly and listen to other people sing on your behalf, words that weren't even in your own language. We give special thanks to the Reformation for bringing change in this area.
Then came the printing press. In 1532, hymnals were printed, allowing a great number of songs to be sung in worship. And in recent years, the computer and video projector have become affordable enough for churches to own and incorporate them into worship. Instead of being limited to the 1000-or-so songs in our hymn books, we can type and display ANYTHING we want to sing. New music is written all the time. We hear it on the radio. We hear it on CDs and MP3 players. We even hear new music here in worship.
Why Sing?
Scripture tells us we should sing. God tells us we should sing. Our choir director tells us we should sing. But at some point, some of us may wonder, Why? Why should we sing? Beyond the fact that we're instructed by God to do it, why should we?
"Sing joyfully to the Lord, you righteous; it is fitting for the upright to praise him. Praise the Lord with the harp; make music to him on the ten-stringed lyre. Sing to him a new song; play skillfully, and shout for joy." ~ Psalm 33:1-3
Okay. But why are we doing this? Not to be obstinate, I would just like to know why.
Learn 7 reasons why in Part 2...
References...
Vaughan Roberts http://www.theologian.org.uk/pastoralia/music.html
Psalm 5
Psalms 4, 6, 54, and 55, as well as Habakkuk 3:19
Psalms 6, 8, 9, 12, 22, 45, 46, 52-54, 56, 57
Acts 16
[ Next Tip ][ More tips ][ Community Comments ][ Add Your Comment ]
---

Community Comments...
Please login to add your comment.
---

More Tips...

































































---
[ More tips ] [ Community Comments ] [ Add Your Comment ]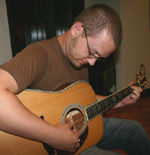 Steve Baney is the founder of ShapingWorship.com, where you can share your original worship music with others and find the perfect song to match your set list, theme, Scripture, or topic. Steve has been a pastor of worship for 12 years, and is author of over 30 worship songs. Read more about the shape of worship and hear new worship music free at ShapingWorship.com.