Learn - Articles about leading worship

Buying Your First Guitar

A young woman in my church recently asked for my advice on purchasing her first guitar. If you're a guitar player, do you remember what it felt like the first time? I recall opening the case and strumming the strings - BRRRIIIINGGGG! - having no idea how to even play a simple chord. Like many first-time buyers, this young woman asked about brands, suppliers, and range of cost. Here's a summary of the advice I gave her...
Brands...
As far as brands go, this isn't an easy answer. Some brands are crummy and some are nice. But the tricky thing is, many of the nice brands also have "low end" guitars. These crummy guitars may have the same brand name as a really nice guitar, but it could still be a junker. I own a Fender acoustic. But as I mentioned, Fender also makes some low end crummy guitars. So it's not a simple as saying, "Buy a Fender."
Suppliers...
The question about suppliers is a better question. If you go to a big music store (like Guitar Center or Sam Ash) they will have a much larger selection. But if you don't know what you're looking for, you might come home with something you don't want. Instead, I would browse at the big store to see what is available, and then stay local when you buy. Specifically, I recommend a small shop in our town called Drum n Strum. I like the guys who run the place because they care more about music than they do about money. So they will make sure you you go home with something good. Ask a musician who lives in your area to recommend a small, local shop similar to this one.
Range of cost...
My first guitar was an Alvarez, about $300, probably more than what I needed to spend. But it was a really nice guitar. I kept it for about 5 years, and it was still a great guitar. You should be able to get a GREAT starter guitar for about $200, give or take. Anything around the $100-or-less range is not worth buying. Top of the line would be the $9,000 custom Taylor I'm drooling over... but I'll never own it. Just dreaming :o)
So what advice would you give to a first-time guitar buyer?
[ Next Tip ] [ More tips ] [ Community Comments ] [ Add Your Comment ]
---

Community Comments...
On 11-27-2009, Terry Guitar said:
Find a local musician whose opinion you trust and ask them to take you a pawn shop. I regularly visit pawn shops with students for their first guitar. For $125 you can find any number of "entry level" electric guitars that are perfect for a first guitar.
On 11-30-2009, Steve Baney said:
Thanks Terry. Isn't guitar shopping FUN?!?
Please login to add your comment.
---

More Tips...

































































---
[ More tips ] [ Community Comments ] [ Add Your Comment ]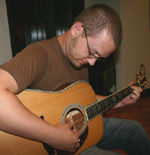 Steve Baney is the founder of ShapingWorship.com, where you can share your original worship music with others and find the perfect song to match your set list, theme, Scripture, or topic. Steve has been a pastor of worship for 12 years, and is author of over 30 worship songs. Read more about the shape of worship and hear new worship music free at ShapingWorship.com.