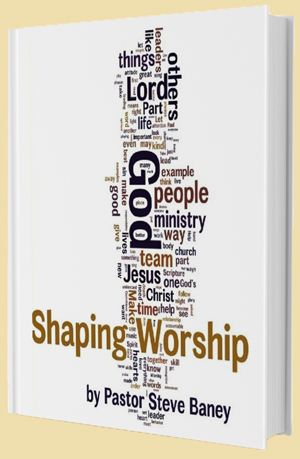 The Worship Leader Assessment measures ten specific areas of worship leading. When all ten areas become strengths of the worship leader and worship team, their ministry is best equipped to honor God and serve his people.

The ten areas measured by the Worship Leader Assessment include...
Humility. You are not entitled to be in this ministry. Playing or singing in the band is not a right; itís a privilege. We donít sing and play in the band because we have skill. We do it because God is good. Despite our sin, his grace allows us to minister in this way. This means humility is top priority.
Transparency. God sees everything we do, whether weíre on stage or not. Our goal is for him to be seen, to reveal God and all his glory.
Order. God is not a God of chaos or confusion, but a God of order. So letís be punctual, professional, accountable, dependable, and flexible according to the needs of this ministry.
Accountability. Success is difficult to measure in worship ministry. Although evaluation is difficult and often uncomfortable, it is an important part of attaining success. There must be a prerequisite agreement to accountability. This means we agree to submit ourselves to being evaluated, to give an account, to be held responsible. Too often we want the reward of ministry without its responsibility.
Abiding. Effective ministry is the result of a quality relationship with God, not vice versa. Your personal spiritual growth is a prerequisite to your participation in ministry. This will be evidenced by attending worship, small groups or classes, and personal time with God.
Example. People will look to us as an example. So we need to be a good example, not a bad one! We are held responsible for the way we lead others. Letís lead them to Jesus.
Skill. God equips those he calls to ministry with the skills they need to be successful. Some skills are acquired through lessons, learning, practice, and experience. Other skills are supernatural gifts from God that cannot be learned by human power alone. Leading worship involves all of these.
Excellence. God deserves our best. So we strive to give him excellent worship. Your experience in other similar areas of worship can be an asset to your contribution to this ministry. Yet it will be vital that you maintain a teachable, coach-able attitude so that we can all work together toward the same goals. This will be evidenced by our practicing, listening, demeanor, and teamwork.
Team. Itís not always easy for a group of people to get along. We need to work together as a team. As a leader, I take my job seriously. So I have high expectations of the members of this team. But coupled with those high expectations is lots of grace. Do your best. Weíll remember together that we arenít perfect. Be honest with yourself and the rest of the team. If there is a conflict, letís discuss it up front instead of letting it grow.
Submission. God arranges the parts of his body to function in the way he chooses. By including you in his ministry, God asks you to be responsible and accountable to the leader(s) he has placed over you. Honor, support, and follow them.
Now that you've had a chance to review the ten areas measured by the Assessment, compare pricing options for your worship team.
These ten areas measured by the Worship Leader Assessment are © copyright and ™ trademark intellectual property of Steve Baney, 2014, and may not be reproduced without express permission.